November 13th, 2005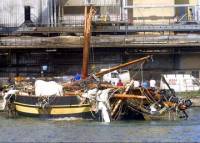 Pride of Baltimore II - Dismasted in port at Saint-Nazaire, France
On Monday, September 5, 2005, Pride of Baltimore II experienced a catastrophic rig failure, which also resulted in the collapse of both masts, while sailing in the Bay of Biscay, off the west coast of France.
Miraculously, no one was injured.
I just heard
About
this and have been scanning through the net for the last hour reeling from it. The images are amazing. The fact that they were able to save all that they did without injury is truly astonishing.
The incident occurred when the
Ship
was underway during a
Squall
. The
Bowsprit
broke
About
halfway along its length, in turn bringing the
Rigging
down. With no support system, the
Foremast
splintered and collapsed, hitting the
Mainmast
on the way down. The wire
Rope
stays that
Secure
the
Foremast
are also fixed to the
Mainmast
, so it too broke off under the strain of the sea swells
About
25 feet above the
Deck
. The
Mainmast
then splintered and also came down. The
Captain
and crew responded quickly, and due to their excellent seamanship, were able to retrieve much of the materials. They were able to motor the vessel the 80 miles to Saint-Nazaire on the French coast of Biscay Bay where the vessel is now moored and under repair.
Cards or notes of well wishes for the Captains and crew are appreciated and can be sent via email
pride2@pride2.org
Latest News Update:
http://www.intandem.com/NewPrideSite/ThisWeek.html
If you would like to help them:
http://www.intandem.com/NewPrideSite/RaiseRig.html
---
More Images
---
RSS feed
Feed Description
All News RSS feed
Complete RSS feed
Bosunīs Log
RSS feed for: Bosunīs Log
A Rich Site Summary (RSS) feed is an xml data file that provides a summary of the information contained here. It is not designed to be viewed in your browser, but instead by rss reader software. If you do not know what this means - you can safely ignore it, as it is provided for advanced users with rss reader software only.