October 19th, 2005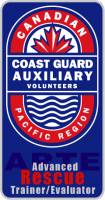 Draft Logo for ARTE Team
I mentioned this briefly in a previous post - but Iīll go over it again a bit here...
Effectively the Coast Guard Auxiliary does most of itīs own training and this starts within each unit for new members working through to Advanced Crew. From that point people progress to Coxswain level and some evaluation outside the unit is required to ensure the entire region is working to the same standards and skills. This is where
ARTE
comes in. The Team is a group of Coxswains from around the region with additional training who help units develop their training programs and work to evaluate those with higher levels of training.
So, all in all - pretty cool stuff - and a fair chunk of responsibility - Iīm pretty honoured to have the chance to do this. The
Course
is in November - so I have some studying to do before then - but Iīm fairly excited to give it a go and see how I do.
All this along with my 60tn stuff and regular work - LOL, just what I needed in one respect - more "stuff"...
---
RSS feed
Feed Description
All News RSS feed
Complete RSS feed
Bosunīs Log
RSS feed for: Bosunīs Log
A Rich Site Summary (RSS) feed is an xml data file that provides a summary of the information contained here. It is not designed to be viewed in your browser, but instead by rss reader software. If you do not know what this means - you can safely ignore it, as it is provided for advanced users with rss reader software only.