October 10th, 2005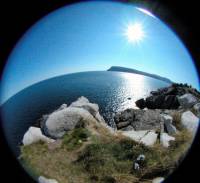 Fisheye view from Middle Head in Cape Bretton
Today was all
About
still trying to catch up with work. Iīm making
Headway
- but itīs a bit of a slog through it - and tomorrow, I can see this already, is goin to be one long phone call containing - you guessed it - more work...
So with that to look
Forward
to (and a
Belly
full of turkey calling me to bed) I though it best to look out from home into some of the other things going on around me...
Babies...
Everyone seems to be having babies - got an email when I returned home from a friend who just had their second child (and I must admit I didnīt even know they were expecting!) and today my very good friend Jim over at
http://www.darkfrenchhost.com
let me know they should have their "arrival" tomorrow or the next day. I wish them all the best!
As far as world events go - I think we have all just
About
had enough major disasters for one season (year/decade/life). This is really
Starting
to get to be a bit much - especially in Aisa. I think the global warming thing has finally started to rear a far more visible
Head
then the so-called unfounded discussions of the past. The Sting song "History Will Teach Us Nothing" suddenly springs to mind... Ah well, there is verry little that I can do that Iīm not already - I feel for all these people - I wish I could help.
But I shall do my part by continuing to live life - keep plodding along with far more trivial items, like most - they are the ones that are close to home, and as things get closer their importance increases - no matter what the magnitude of suffering that may be happening further away.
Do I have a point - not really - just musing.
---
RSS feed
Feed Description
All News RSS feed
Complete RSS feed
Bosunīs Log
RSS feed for: Bosunīs Log
A Rich Site Summary (RSS) feed is an xml data file that provides a summary of the information contained here. It is not designed to be viewed in your browser, but instead by rss reader software. If you do not know what this means - you can safely ignore it, as it is provided for advanced users with rss reader software only.