October 9th, 2005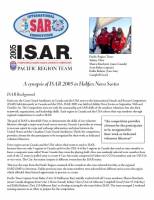 Finally managed to get all the photos and a report
About
ISAR
completed - the PDF report is available on the ccga-12 web site
ISAR 2005 Report
I also managed to get the good photos posted on the CCGA-Pacific web site: [url=http://www.ccga-pacific.org/ccga-p/gallery/?action=album&aid=288] 516;link Photos[/url]
I worked most of the day yesterday on various
CCGA
things - including creating three different exams for my unit (putting on my training officer hat now) one each for crew, advanced crew, and coxswains - Iīll be springing that on everyone at the next training meeting. I also made a good start into the Quiz module Iīve wanted to create for a while - itīs almost ready for some beta testing - and Iīll be using it for mainly seamanship type stuff to start, so Iīll keep everyone here informed.
I guess itīs thanksgiving today (for us Canadians anyway) so Happy Thanksgiving everyone! Iīm off to make Pumpkin Pie to take to the gathering tonight (family & friends) and it looks like weīll get a second go-around of big-dinner on Monday as well... always fun & fattening!
---
RSS feed
Feed Description
All News RSS feed
Complete RSS feed
Bosunīs Log
RSS feed for: Bosunīs Log
A Rich Site Summary (RSS) feed is an xml data file that provides a summary of the information contained here. It is not designed to be viewed in your browser, but instead by rss reader software. If you do not know what this means - you can safely ignore it, as it is provided for advanced users with rss reader software only.