July 3rd, 2009
not with much help from these pills...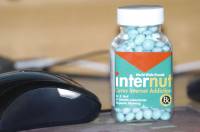 Spent the last 2 days getting over a bit of a cold - but it seems a good excuse to post these funny "pills" my parents gave me for my birthday. In reality they are just mints but I love the idea as a great joke.
With a load of sleep and an easy last 2 days I have basically got over the cold. Thus some silliness seemed appropriate. So here is to some dollar store silliness and a smile for little reason that I trust it will bring.
The irony is that the cold did a better job of keeping me offline then the mints (I mean pills) ever could :)
---
RSS feed
Feed Description
All News RSS feed
Complete RSS feed
Bosunīs Log
RSS feed for: Bosunīs Log
A Rich Site Summary (RSS) feed is an xml data file that provides a summary of the information contained here. It is not designed to be viewed in your browser, but instead by rss reader software. If you do not know what this means - you can safely ignore it, as it is provided for advanced users with rss reader software only.