August 14th, 2005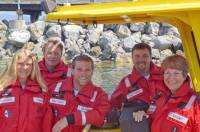 Pacific ISAR Team: Kellei Bulmer, Campbell Good, Scott Baker, Shawn Burchette, Sidney Clare
Iīve been wanting to start a less formal
Log
(BLOG to my fellow geeks) here on bosunsmate but before the recent switch to itīs own server I couldnīt update the code to allow it.
However, now I have the ability, so I thought Iīd start in with a few notes from last weekend. I never got the chance to post to this site that my Fiancee Kellei and I were selected to be part of the Pacific Region
ISAR
(International Search and Rescue Competition) team at the regional SARCOMP (Search and Rescue Competition) in Steveston held in May. We will be off to Halifax in September to join teams from across Canada and the US for the 2005
ISAR
.
As team
Captain
/coxswain Iīve been working to pull together the team (made up of
CCGA
members from around BC) for some training before the competition and we finally managed to
Secure
a date last weekend.
It was an excellent weekend - as we worked together to learn our strengths and weaknesses as well as practise some of the skills that we will need during the competition.
The fun part was that right at the end of our day (while we were
Heading
Back
to base, we were flagged down by a broken down vessel in the process of paddling
Back
to shore. After the requisite call into Coast Guard Radio and a tasking from
JRCC
(the Joint Rescue Coordination Centre) we proceeded to take the vessel under tow and get them
Back
to the
Dock
at a small
Pier
near Gibsons BC (Hopkins Landing)
Taking a vessel under tow just happens to be the perfect team exercise - involving communication, quite a few steps and skills - it was the perfect exercise for our new team to practise - and it cam off brilliantly!
anyway - Iīll leave you with a few photos and the promise to keep you all up-to-date with what is happening both with
ISAR
and my new role as a
CCGA
coxswain in general.
---
RSS feed
Feed Description
All News RSS feed
Complete RSS feed
Bosunīs Log
RSS feed for: Bosunīs Log
A Rich Site Summary (RSS) feed is an xml data file that provides a summary of the information contained here. It is not designed to be viewed in your browser, but instead by rss reader software. If you do not know what this means - you can safely ignore it, as it is provided for advanced users with rss reader software only.