July 12th, 2008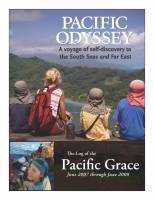 Throughout the voyage of the Pacific Grace 2007-2008 during the "Pacific Odyssey" offshore voyage Bonice Anderson kept a meticulous
Log
of what transpired. A bound copy was presented to her upon their return. You can download a copy of it here.
This is the same material that was sent
Back
from the Grace by satellite for the vessel tracking that allowed us to follow along here. It has been re-formatted and presented in a book form - all 200 pages of it!

Log of the Pacific Grace

Log of the Pacific Grace
Size: 1.67M
---
RSS feed
Feed Description
All News RSS feed
Complete RSS feed
Bosunīs Log
RSS feed for: Bosunīs Log
A Rich Site Summary (RSS) feed is an xml data file that provides a summary of the information contained here. It is not designed to be viewed in your browser, but instead by rss reader software. If you do not know what this means - you can safely ignore it, as it is provided for advanced users with rss reader software only.