December 20th, 2007
Part of the reason Iīve been a bit quiet lately is because Iīve been working on an entirely new mapping system for the vessel tracking system. For anyone that has Google Earth I can at least offer a KML data feed for the tracker routes now - with the bulk of the new system coming in the new year.
This snapshot shows with the beta system looks like for the moment. very soon a new open source mapping system will be built into the web site so that you can view the routes in a similar way to
Google Maps
Iīm fairly excited
About
all this (for obvious reasons) and would have it done sooner but with Christmas and all itīs not going to get done until after. Plus I want to really polish it before I launch it.
That said - I can offer a small Christmas Gift for anyone that has
Google Earth
installed. You can now create a network link to get
Current
KML data from any of the routes in the system. I expect most people will want the
Current
Pacific Grace routes so here are the appropriate links:
Leg1:
http://www.bosunsmate.org/tracker/kml.php?trid=43
Leg2:
http://www.bosunsmate.org/tracker/kml.php?trid=44
Leg3:
http://www.bosunsmate.org/tracker/kml.php?trid=45
Leg4:
http://www.bosunsmate.org/tracker/kml.php?trid=46
Clicking on these links probably
will not work
you will need to "Add Network Link" in Google Earth and then paste in the appropriate URL. If all this is too technical at the moment - donīt worry - it will soon be visible on the site and there will be instructions for adding the links in Google Earth as well.
Happy Holiday Everyone!
---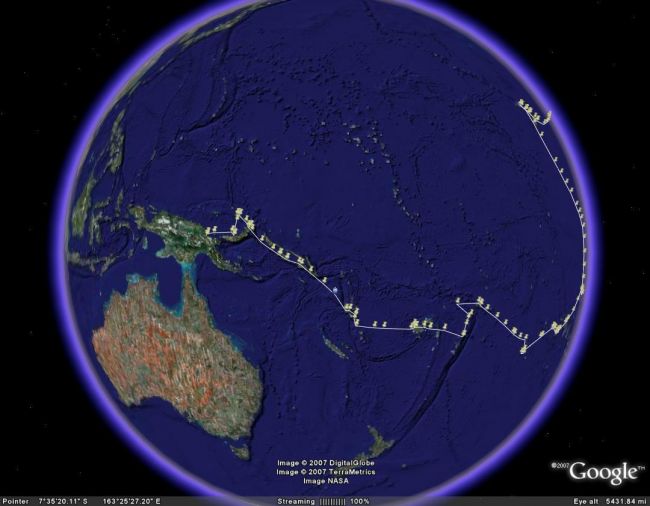 Google Earth Snapshot of the Offshore
RSS feed
Feed Description
All News RSS feed
Complete RSS feed
Bosunīs Log
RSS feed for: Bosunīs Log
A Rich Site Summary (RSS) feed is an xml data file that provides a summary of the information contained here. It is not designed to be viewed in your browser, but instead by rss reader software. If you do not know what this means - you can safely ignore it, as it is provided for advanced users with rss reader software only.