January 18th, 2007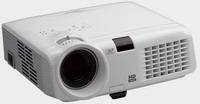 Optoma HD70
While it may be a bit late - it was worth the wait.
Back
in November Kellei and I decided to combine our resources and jointly get each-other a single Christmas Present rather then going to individual route. We chose to get a new projector and retire our TV. It arrived Yesterday!
After a
LOT
of research we chose the
Optoma HD70
projector and have to say we are thrilled with the result. We changed around our "media room" and mounted all our speakers on the walls and ceiling. Then we cut a hole through the wall from our office (which adjoins the Media Room) so that the projector can sit in the office and project through the hole into the media room.
The end result is a screen size
About
7ī wide and eliminates all the clutter from the floor. The best thing is that the resulting image is actually clearer and brighter then the TV was (something I wasnīt expecting) We christened the system by watching Star Wars yesterday and are still loving having, basically, our on mini-movie theatre in-house.
Since we donīt have
Cable
TV and only watch movies - it just made sense. So for anyone considering a similar move (or even if youīre considering a big-screen TV
Purchase
) you may want to have a look at the Optoma HD70 - the HD72 is
About
twice as expensive for twice the resolution (which you only need if youīre going to HD) and if itīs anything like the HD70 - itīs certainly worth a look!
---
RSS feed
Feed Description
All News RSS feed
Complete RSS feed
Bosunīs Log
RSS feed for: Bosunīs Log
A Rich Site Summary (RSS) feed is an xml data file that provides a summary of the information contained here. It is not designed to be viewed in your browser, but instead by rss reader software. If you do not know what this means - you can safely ignore it, as it is provided for advanced users with rss reader software only.