August 28th, 2006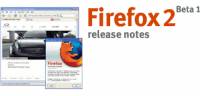 Being the geek that I am, I thought it was time to start trying out the Firefox 2 Beta - as such, Iīm writing this blog using that client - and Iīve already noticed a slight speed increase for page rendering.
If youīre still using Internet Exploder to browse the net my first thought woul dbe to ask: Why? If the answer to that question is either that you donīt know what Firefox is or havnīt got around to trying it out yet - then take my advice and install it - youīll never look
Back
:
http://www.mozilla.com/firefox/
If youīre interested in trying out Firefox 2 here is the link
http://developer.mozilla.org/
Why am I promoting all this? Well, mainly as a web designer I like to know that people are viewing the pages I create in a good browser, but more because Firefox is far more user friendly and
Secure
then Internet Exploder and I like people to be safe and happy, so I thought devoting a day to it in the blog would be worthwhile ;)
---
RSS feed
Feed Description
All News RSS feed
Complete RSS feed
Bosunīs Log
RSS feed for: Bosunīs Log
A Rich Site Summary (RSS) feed is an xml data file that provides a summary of the information contained here. It is not designed to be viewed in your browser, but instead by rss reader software. If you do not know what this means - you can safely ignore it, as it is provided for advanced users with rss reader software only.