May 26th, 2006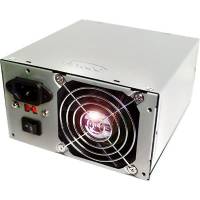 The current suspect...
The saga continues... several months
Back
I keep all appraised during my little adventure upgrading my main system after a video card died and took out the motherboard... My luck, it seems, has not improved.
Ever since I set up the new machine I noticed random complete system crashes - reboots at random with no appearent cause. After extensive testing the only thing I could think of was the memory (the only component left from the old system) so I shelled out the bucks for a memoery upgrade (taking the total to 4Gb - might as well...)
I powered down the machine yesterday, swapped out the DIMMS but when I pushed the power button - nothing :( I had noticed a whine coming from the power supply before I powered down but I went through all the tests. Power LED on the motherboard was on, swapped
Back
out the the old modules, removed everything, tried a different switch for the power - nothing (no fan activity nor power showing on the molex connectors) So, after extensive testing, the only thing I can conclude is that the power supply has crapped out in the 12V area... so I have a new one on the way - should be here later this afternoon.
Iīll keep you posted.
---
RSS feed
Feed Description
All News RSS feed
Complete RSS feed
Bosunīs Log
RSS feed for: Bosunīs Log
A Rich Site Summary (RSS) feed is an xml data file that provides a summary of the information contained here. It is not designed to be viewed in your browser, but instead by rss reader software. If you do not know what this means - you can safely ignore it, as it is provided for advanced users with rss reader software only.