May 15th, 2006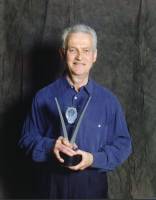 Larry Baker with the Leo Award
Local sound designer Larry Baker (My Dad) won īBest Sound Editing in a Documentary Program or Seriesī at the 2006 Leo Awards Celebration Awards Ceremony Friday, May 12, 2006 at the Westin Bayshore Vancouver BC. The Leo Awards are where the best and brightest film and television talent and programs in British Columbia are honoured for their work.
Larry Baker of eCoustic Media Productions was honoured with 3 nominations for Leo Awards this year: īBest Overall Sound in a Documentary Program or Seriesī, īBest Overall Sound in a Youth or Childrenīs Program or Seriesī, and īBest Sound Editing in a Documentary Program or Seriesī. A veteran of studio engineering for more than 40 years, Larry Baker has worked on productions for several Canadian and US networks. With credits on such well known series as īSCTVī, īDouble Exposureī, īTom Jonesī, īLetīs Make A Dealī, and years on īBCTV Newsī including having a hand in writing the theme song used in the 80īs. His varied experience in location recording for film and video plus mixing and sound effects creation brings to each project those "extras" that produce top quality results. "It is wonderful to receive an award for doing something that you are so passionate about" said Larry on receiving the Award.He was a recipient of a Leo Award the first year the awards were held for īBest Overall Soundī for the series īCosmic Highwayī and has been nominated in subsequent years.
This yearīs award highlights Larryīs work on īShakinī All Overī a history of Canadian RockīnīRoll produced by Soapbox Productions - the same company behind the recent Beachcombers Movies filmed on the Sunshine Coast. With over 800 entrants in this category, it is a prestigious acknowledgement of excellence in the field of Sound Design. Aired on CBC with very high ratings, īShakinī All Overī is soon to be followed by 2 more episodes that will continue to chronicle Canadian RockīnīRoll. In addition, Larry will be working with Soapbox Productions on a documentary
About
the life of Long John Baldry.
Moving to the Sunshine Coast in 2004, Larry has focused his energy on his new company eCoustic Media Productions. Based in Halfmoon Bay, eCoustic Media specializes in multimedia and video productions for small and medium sized business. The company is relatively new but has already produced videos for the Pender Harbour Coast Guard Auxiliary, Sechelt Marine Access Committee, Canadian Coast Guard Auxiliary, and has supplied stock footage to the BC Olympic Secretariat.
eCoustic Media Production
http://www.ecoustic.ca/
---
RSS feed
Feed Description
All News RSS feed
Complete RSS feed
Bosunīs Log
RSS feed for: Bosunīs Log
A Rich Site Summary (RSS) feed is an xml data file that provides a summary of the information contained here. It is not designed to be viewed in your browser, but instead by rss reader software. If you do not know what this means - you can safely ignore it, as it is provided for advanced users with rss reader software only.