March 22nd, 2006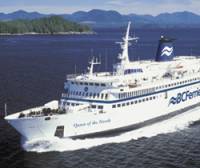 Queen Of The North
Since everyone is emailing me and asking
About
it I would like to formally declare - Yes I know, no I donīt have any more information...
Like many in BC I work up today to hear that the īQueen of the Northī has foundered after striking a rock en-route to Prince Rupert. I must admit I did hear the
SAR
Aircraft on the
VHF
just before we wen to bed but I didnīt know what was going on - just that they had been tasked away to something (which happens almost every day)
So, now you know as much as I do. Just glad to hear everyone is ok.
PS: regular readers are probably wondering what happened to me for the last 2 weeks - sorry
About
that, life got interesting and due to a health issue I needed to take a bit of time. Kellei and I are off again for a 5 day trip to the Island to help other
CCGA
units with some training - so I will likely be absentee for a little while longer - but after that I shall return!
---
RSS feed
Feed Description
All News RSS feed
Complete RSS feed
Bosunīs Log
RSS feed for: Bosunīs Log
A Rich Site Summary (RSS) feed is an xml data file that provides a summary of the information contained here. It is not designed to be viewed in your browser, but instead by rss reader software. If you do not know what this means - you can safely ignore it, as it is provided for advanced users with rss reader software only.