March 3rd, 2006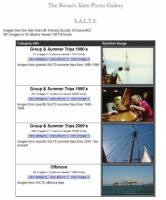 Screenshot of the new gallery
Well, after
About
4 years it was time to re-write the photo gallery. Having always been a sounding
Board
for new concepts - Bosunsmate.org is first to get the new code.
I just finished it (well enough to launch anyway)
About
30 mins ago and after some final testing I can put it live here. Basically It was a lot of housecleaning for me, but I think youīll find it
much
easier to navigate around, hopefulyl anyway.
In addition there are some great new features on the way - like comments in the forum (same has here in the news).
But for now, the big one is "suggest album" that will allow users to create a new album and start uploading images in a "pending" state - so Administrators (read me) can approve it later.
take it for a spin:
Gallery Module
---
RSS feed
Feed Description
All News RSS feed
Complete RSS feed
Bosunīs Log
RSS feed for: Bosunīs Log
A Rich Site Summary (RSS) feed is an xml data file that provides a summary of the information contained here. It is not designed to be viewed in your browser, but instead by rss reader software. If you do not know what this means - you can safely ignore it, as it is provided for advanced users with rss reader software only.