February 21st, 2006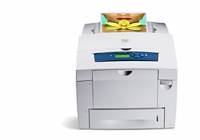 Xerox 8550DP Printer
Itīs been
About
5 years with my
Current
colour laser (a great deal from an auction) but with all the printing we do for various organizations and 2 businesses it was time for something new.
Our existing printer needed a new photoconductor (a $350 part) so I started looking around and found that prices had come down so much that something much better wouldnīt cost too much more then the part I needed.
After some looking we settled on the Xerox 8550DP which is staggeringly
Fast
with itīs new solid ink system (close to 30ppm in full colour) and has the nice advantage of producing no waste from cartriges that need to be tossed as the tonor runs out. Instead, it uses a small ink "pellet" that drops into a holder in the printer.
Plus, it has a different transfer mechinism that isnīt reliant on a fuser like with laser - so it will print much better on card stock. Having some wedding invitations currently in the queue to be printed - this sounded ideal.
Finally, the 8550 is currently subject to a special rebate of $150 plus what they call a "year of free black ink" = 18 free pellets.
All told, that drops
About
$450 from the $1200 price tag - leaving the cost to buy for this new (2400dpi) printer just over the cost of the replacement part of my old (600dpi) one.
Iīm smiling.
---
RSS feed
Feed Description
All News RSS feed
Complete RSS feed
Bosunīs Log
RSS feed for: Bosunīs Log
A Rich Site Summary (RSS) feed is an xml data file that provides a summary of the information contained here. It is not designed to be viewed in your browser, but instead by rss reader software. If you do not know what this means - you can safely ignore it, as it is provided for advanced users with rss reader software only.