February 6th, 2006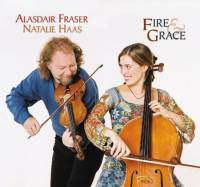 To the best of my knowledge there isnīt a Scottish or Irish bone in my body... but if anyone asked me what I think of when I pine for the īold countryī it would have to be one of those places. So, I treated myself to a magnificent concert yesterday as Alasdair Fraiser and Natilie Hass played in Gibsons BC.
I donīt go to concerts very oftin - but when something like this turns up, you donīt miss it. Tickets were only $15 and had I not been
Board
scanning through our local newspaper for a second time, I probably wouldnīt have even noticed the small ad. Described as "one of the finest fiddle-players Scotland has ever produced" this is not a chance I was going to miss.
It was brilliant!
It was set in a small church and the acoustics were perfect for this kind of music. Iīm struck speechless to some extent to even attempt to describe the beauty of it all. The counterpoint between the
Fiddle
and cello was inspiring and the care each of these two took with respect to each other was lovely.
If you are a fan of music - I encourage you to consider grabbing a copy of the CD (see web sites
Below
) and better yet, if you can make it to one of their concerts - donīt miss the chance!
http://www.alasdairfraser.com/
http://www.nataliehaas.com/
---
RSS feed
Feed Description
All News RSS feed
Complete RSS feed
Bosunīs Log
RSS feed for: Bosunīs Log
A Rich Site Summary (RSS) feed is an xml data file that provides a summary of the information contained here. It is not designed to be viewed in your browser, but instead by rss reader software. If you do not know what this means - you can safely ignore it, as it is provided for advanced users with rss reader software only.