February 5th, 2006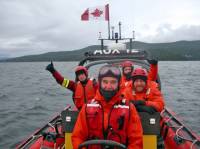 A happy crew!
Storm Warning issued for the South Coast - winds in excess of 40 knots, seas to 2m - PERFECT training weather! No, we´re not crazy - when you´re in the right vessel and dressed for the occasion - it truly is the best weather to train in. If you can do it right with the distraction of a 45Knot wind - then you´ll be fine on a flat calm day.
Basically that was my day Saturday.
Starting
at 1000h I ran three different 2 hour training sessions for three crews. Putting into practice the last month of
Navigation
classroom sessions we had been working through. Even though the rough weather wasn´t part of my plan - it certainly was an added bonus.
All three groups did swimmingly - but the 2nd group was done early so we took the last 30 mins to go and play in the swells (and I mean swells) which is unusual for our area. We usually only have short wind-driven seas through Welcome pass and Malispina Strait - but yesterday we has 14´ swells rolling through - it was awesome!
---
RSS feed
Feed Description
All News RSS feed
Complete RSS feed
Bosun´s Log
RSS feed for: Bosun´s Log
A Rich Site Summary (RSS) feed is an xml data file that provides a summary of the information contained here. It is not designed to be viewed in your browser, but instead by rss reader software. If you do not know what this means - you can safely ignore it, as it is provided for advanced users with rss reader software only.