December 15th, 2005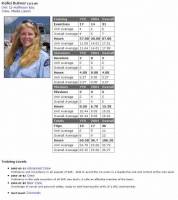 Crew Overview page from the SAR System
I think, if ever there was a project that I have had more fun working on - then I must not be able to remember it. Since March of this year I have been devoting my spare time (ya right) to building a new web application for the
CCGA
. The main reason I started this was to catapult them
Forward
out of the dark ages of using paper reporting forms so that we could start getting some real stats and save LOADS of time.
About
a month ago the module went into beta testing on their web site - but development continues at a fevered pace - in preparation for a February launch to all zones across BC.
In total itīs going to replace
About
3 discrete systems and
About
10 different paper forms. It will add loads of new stats and reports that they have never had before and open the whole thing up to the individual members to look at their own details - thatīs the fun part.
The screen-shot Iīve included is an example of one of the reports that the members will be able to see for themselves - in this case itīs Kelleiīs Most of the data is automatically tabulated from mission and training reports submitted by the coxswain for that trip - so the member doesnīt need to really do anything but look at the report.
Iīm not sure exactly how far Iīll be able to take this thing - and Iīm sure other organizations in a similar field will be able to use it as well - so Iīm keeping it as generic as I possibly can - any way I slice it though, it sure is fun.
Sorry if I keep droning on
About
this module - its just that itīs been my life for the last little while.
In other news, both Kellei and I get to go on an
ARTE
workshop to Bamfield (where
RHIOT
school is held) in January - this will be the final stab at completeing a formal coxswain standard for the
CCGA
. Having that will make my life in terms of being Training Officer MUCH easier - and the fact that Kellei will get to come along - is _really_ awesome!
---
RSS feed
Feed Description
All News RSS feed
Complete RSS feed
Bosunīs Log
RSS feed for: Bosunīs Log
A Rich Site Summary (RSS) feed is an xml data file that provides a summary of the information contained here. It is not designed to be viewed in your browser, but instead by rss reader software. If you do not know what this means - you can safely ignore it, as it is provided for advanced users with rss reader software only.