October 29th, 2012
Crew forced to abandon ship while trying to skirt storm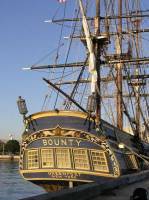 Very sad news this morning to hear about the plight HMS Bounty. Ship lost, 14 rescued 1 lost 1 missing at this point.
Latest USCG Release:
http://www.uscgnews.com/go/doc/4007/1592131/UPDATE-Coast-Guard-rescues-14-recovers-1-continues-search-for-1-from-HMS-Bounty
here is a link from CBC (with updates after the initial posting)
http://www.cbc.ca/news/canada/nova-scotia/story/2012/10/29/ns-hms-bounty-hurricane-sandy.html
UPDATE: CBC is the only place listing this information:
"
Coast Guard officials said the two missing crew members - a man and a woman - are believed to be in cold water survival suits and life-jackets. He said the air search is being plotted based on wind direction and speed, and will be expanded.

UPDATE: Getting reports one of the two missing has been found unresponsive.

UPDATE: http://www.huffingtonpost.com/2012/10/30/claudene-christian-dead-hms-bounty_n_2044455.html

Claudia McCann, whose husband Robin Walbridge is the captain of the Bounty, told CBC News her husband is one of the two missing crew members. CBC News has learned the other missing crew member is Claudene Christian.
"
HMS Bounty's web site
http://www.tallshipbounty.org/
and Facebook Page with updates:
http://www.facebook.com/HMSBounty
USCG Release:
http://www.uscgnews.com/go/doc/4007/1591487/
---
RSS feed
Feed Description
All News RSS feed
Complete RSS feed
Whatīs New
RSS feed for: Whatīs New
A Rich Site Summary (RSS) feed is an xml data file that provides a summary of the information contained here. It is not designed to be viewed in your browser, but instead by rss reader software. If you do not know what this means - you can safely ignore it, as it is provided for advanced users with rss reader software only.