January 18th, 2012
After going dark for 12h participating in the global #SOPAstrike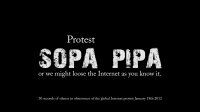 On January 18th at 8am PST we intentionally replaced the BosunsMate.org website with a redirect to the #SOPAstrike site effectively disabling our web site for the first time since 1992. This extraordinary action was taken to show support for the thousands of web sites and millions of people who spent the day rallying against this flawed proposed legislation.
Why are all us geeks so focused on these SOPA/PIPA bills in the USA?
In short because they would most likely cripple the foundation of the Internet you have grown to know and use every day. As is so frequently the case, at best, the legislation was written by people that donīt really understand technology or at worst it was intentionally deceptive to provide unprecedented control to censor and manipulate the Internet (the conspiracy theorists can hash that one out)
The undeniable fact is that the modern Internet is bringing our world closer together. It has allowed people across the globe to become friends and gain a better understanding of foreign cultures. In our opinion it is the best hope we currently have to come closer to a peaceful coexistence on this planet - why? because through unfettered communication we understand each other better - the ignorance that breeds hate starts to disappear. For this to continue it MUST not be censored.
These bills pose a direct threat to our ability to communicate, innovate, and grow as a species. PLEASE support the effort to stop them. Because, itīs
About
more then just the Internet. Itīs not just
About
the geeks (we just happen to understand the technology behind it) Itīs
About
the world we live in and all our futures.
For more information watch this video from
http://www.fightforthefuture.org/pipa
---
RSS feed
Feed Description
All News RSS feed
Complete RSS feed
Bosunīs Log
RSS feed for: Bosunīs Log
A Rich Site Summary (RSS) feed is an xml data file that provides a summary of the information contained here. It is not designed to be viewed in your browser, but instead by rss reader software. If you do not know what this means - you can safely ignore it, as it is provided for advanced users with rss reader software only.