July 9th, 2009
A fun way to help out in the community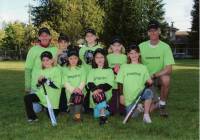 The 2009 PawPrint MiniMite Team
Back in 2007 I started sponsoring a minor softball team in Sechelt. This year they sent a little bag of goodies after the season had ended. It contained a photo, ball cap, and card of thanks.
Kellei has also started sponsoring a team and there is a fairly substantial satisfaction in such a simple effort for both of us. The only frustration is that we never have yet found the time to attend a game. Next year that will certainly change.
In any regard there are goals to enhance the web site for
http://www.secheltminorsoftball.ca/
for next year and I look
Forward
to another year and more time to watch some games. We encourage everyone to support things like thin in their local community - itīs always important to find simple things that can be done to help spread around a little fun!
---
RSS feed
Feed Description
All News RSS feed
Complete RSS feed
Bosunīs Log
RSS feed for: Bosunīs Log
A Rich Site Summary (RSS) feed is an xml data file that provides a summary of the information contained here. It is not designed to be viewed in your browser, but instead by rss reader software. If you do not know what this means - you can safely ignore it, as it is provided for advanced users with rss reader software only.