July 1st, 2009
Looking back, 2 years after we lost the Robby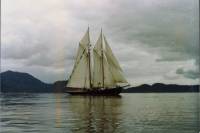 Sailing off the Sunshine Coast
Strangely I received an email
About
the Robertson II just yesterday - exactly two years after the tragic night that she ran
Aground
and left us forever. It reminded me that so many who will be touched (wounded) by learning of her fate, probably still donīt even know it.
The person that emailed me had "had a feeling to Google the Robby" what a heart breaking search result that must have been... It got me thinking how many countless others are still out and
About
that have no idea what happened. The interesting question then becomes, isnīt this something to be glad
About
.
When you think of the Robbyīs greatest legacy to us all, it is all the people that came together in her cradle and had their very lives changed, and as a result are now certainly changing the lives of others. This must be the greatest gift and it continues and will for ages yet. So as we imagine this wonderful vessel slowly becoming a home for new life as the many and varied creatures of the sea find their homes in her shelter, I think I will continue to focus on her lasting legacy and how much joy she has represented to so many people from all walks of life and all across the globe.
I was sent some beautiful video shortly after the events in 2007 showing the Robby in her prime. I am working to create a bit of a composite of this and will post it here as soon as it is complete.
So in the spirit of fond memories and ongoing joy - I shall raise a tin mug of hot chocolate, drink to her memory and pay my respects to the Robby by listening to the rousting rendition of

Country Roads

Country Roads
Size: 1.85M
, sung far too loud and in a state of pure innocent joy.
---
RSS feed
Feed Description
All News RSS feed
Complete RSS feed
Bosunīs Log
RSS feed for: Bosunīs Log
A Rich Site Summary (RSS) feed is an xml data file that provides a summary of the information contained here. It is not designed to be viewed in your browser, but instead by rss reader software. If you do not know what this means - you can safely ignore it, as it is provided for advanced users with rss reader software only.