January 1st, 2006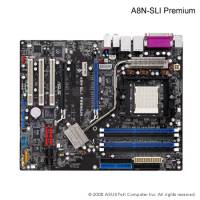 Proposed New Mobo
2006 - already? geesh this all reminds me of the Monty Python snippit:
< wooshing sound >
"What was that?"
"That was your life mate"
"Do I get another"
"Nope, sorry."
"damm"
Not that Iīm complaining - just noticing how
Fast
things seem to be proceeding by - but Iīm still having fun.
Today we
might
be going out on the
CCGA
Boat
to run safety for the polar bear swim - that is
if
there is a polar bear swim. with a forecast for 55
Knot
winds - it may get scrapped. Weīll probabyl go out anyway - do some rough weather training :)
I mentioned yesterday that my computer basically blew up (well the video card blew up and took the computer with it... So most of yesterday was spent researching the best replacement mobo/board combo - and I think I have it: Asus is the manufacturer of choice and Iīm going to the extreme... A8N SLI Premium
Board
and a Athlon 64 X2 Dule Core... letīs see what that puppy can do for the ole productivity. Which is going to be important because Iīll probably be
About
a month behind by Wed when I hope to get things running after a trip to Vancouver on Tuesday to pick it up.
---
RSS feed
Feed Description
All News RSS feed
Complete RSS feed
Bosunīs Log
RSS feed for: Bosunīs Log
A Rich Site Summary (RSS) feed is an xml data file that provides a summary of the information contained here. It is not designed to be viewed in your browser, but instead by rss reader software. If you do not know what this means - you can safely ignore it, as it is provided for advanced users with rss reader software only.