News
Item
A Day Out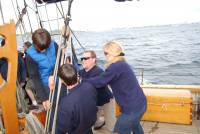 Pulling Together, Chris, Kellei, and I
Category: Bosunīs Log
May 31st, 2008

OK, so Iīve been gone for a month... lifeīs been busy! But Iīm coming back in with a bang - Sailing with old friends on the Pacific Swift for a day - BANG!...
Positions Rolling In
Category: Bosunīs Log
July 18th, 2009

Itīs great to see the positions coming in from the summer program as the Pacific Swift and Pacific Grace ply our local waters. For the armchair sailor like me, this is about as close as we can get to be back out on the water......