News
Item
Training Into Tow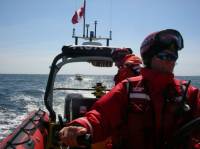 Kellei at the helm - towing the vessel
Category: Bosunīs Log
May 14th, 2006

Itīs that time of year again... things always pick up in the summer and this season is not looking like any exception. SInce Kellei leaves for RHIOT on Tuesday we have been out training a lot. Yesterday was supposed to be a 2 hour slow boat handling training session - we ended up with much more then we planned - but it was all good!...
World Matirime Rescue Congress
Category: Bosunīs Log
May 27th, 2007

Weīre on our way... to England, Sweden, and Ireland - the excuse? The World Maritime Rescue Congress in Gothenburg Sweden June 3rd - but weīve got a whole lot more then just that planned......