News
Item
A Day Out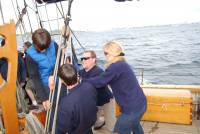 Pulling Together, Chris, Kellei, and I
Category: Bosunīs Log
May 31st, 2008

OK, so Iīve been gone for a month... lifeīs been busy! But Iīm coming back in with a bang - Sailing with old friends on the Pacific Swift for a day - BANG!...
SALTS 2009 Summer Program Starts
Category: Bosunīs Log
June 28th, 2009

Today marks both the start of the SALTS 2009 Summer program, and my return to trying to keep this site up to date with some news of happenings around my world. I Was a bit reluctant to return to blogging here because my nautical endeavors have been reduced of late - but - probably better to continue and be less nautical then not to continue at all....
Robertson II - Two Years Later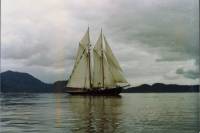 Sailing off the Sunshine Coast
Category: Bosunīs Log
July 1st, 2009

Strangely I received an email about the Robertson II just yesterday - exactly two years after the tragic night that she ran aground and left us forever. It reminded me that so many who will be touched (wounded) by learning of her fate, probably still donīt even know it....
Clarks Maritime Online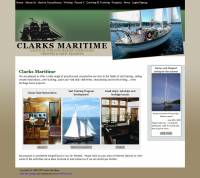 Screenshot of the clarksmaritime.com site
Category: Bosunīs Log
July 7th, 2009

Iīm pleased to announce the launch of the Clarks Maritime web site, a home for the various nautical endeavours of Martyn and Margaret Clark (who will be familiar to many of you by name) This site was a joy to design and produce....
Positions Rolling In
Category: Bosunīs Log
July 18th, 2009

Itīs great to see the positions coming in from the summer program as the Pacific Swift and Pacific Grace ply our local waters. For the armchair sailor like me, this is about as close as we can get to be back out on the water......