News
Item
Arrive in Poole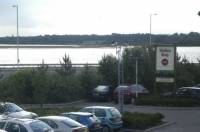 View from our room
Category: Bosunīs Log
May 28th, 2007

Itīs been a long day about 24h or it - but weīre installed in Poole now at the start of our trip to England, Sweden, and Ireland. It was a long flight from Vancouver and as we left we passed over the Langdale Ferry (our home run) likely with our dog Wyatt and Parents aboard....
Meeting with the RNLI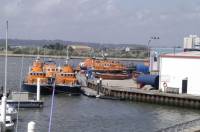 The RNLI Reserve Fleet
Category: Bosunīs Log
May 30th, 2007

Met with the RNLI today and after a fairly informative one hour tour from Barbara we spent several hours meeting with Ian to discuss training programs, which led into drinks, which led into dinner......
Day 2 In Poole
Category: Bosunīs Log
May 31st, 2007

Another day in Poole. We had plans initially to travel further afield - but we needed a relaxed day so we stuck around in Poole and had another day on the town....