News
Item
Some days are better then others...
Category: Bosunīs Log
May 9th, 2007

Some days are much better then others and Wed. May 9th will certainly go down as a good one for us, because this was the day that we won the 2007 House of Dreams Contest from Mountain FM!...
The Destruction before the Roof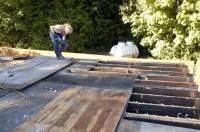 Taking off the floor
Category: Bosunīs Log
September 9th, 2007

Just over a year ago our mortgage helper house (in our backyard) caught fire and the top story burnt down. We finally have raised enough money and got the building permit to put a roof back on......