News
Item
The Unexpected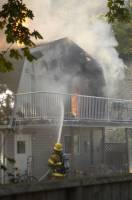 The House Fire - shortly after my arrival
Category: Bosunīs Log
August 25th, 2005

I was going to write about 60tn certifications - but given what has happened in my backyard - I think I will permit myself a short departure into what, for me, has been a somewhat surreal occurance - my house (not my home) caught fire....
The Destruction before the Roof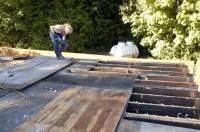 Taking off the floor
Category: Bosunīs Log
September 9th, 2007

Just over a year ago our mortgage helper house (in our backyard) caught fire and the top story burnt down. We finally have raised enough money and got the building permit to put a roof back on......
Power Failures, Wind Storms, and Forest Fires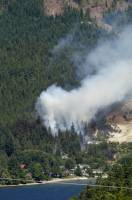 East Porpoise Bay Forest Fire
Category: Bosunīs Log
July 11th, 2008

Some days are mundane, yesterday was anything but. It started in the morning with an unseasonable wind storm - gusting about 40kn plus all morning. Then, for obvious reasons the power flickered off rendering my work day basically over. On going outside to find something "powerless" to do, I first sighted the water bombers descending over Sechelt......