News
Item
2009 Minor Softball Team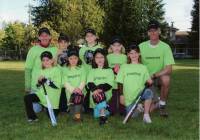 The 2009 PawPrint MiniMite Team
Category: Bosunīs Log
July 9th, 2009

Back in 2007 I started sponsoring a minor softball team in Sechelt. This year they sent a little bag of goodies after the season had ended. It contained a photo, ball cap, and card of thanks....
Bosunsmate.org is Back Online
Category: Bosunīs Log
January 18th, 2012

On January 18th at 8am PST we intentionally replaced the BosunsMate.org website with a redirect to the #SOPAstrike site effectively disabling our web site for the first time since 1992. This extraordinary action was taken to show support for the thousands of web sites and millions of people who spent the day rallying against this flawed proposed legislation....