December 18th, 2005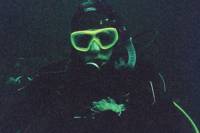 Hello little Nudibranch
It was Kelleiīs Birthday yesterday (in case you didnīt notice) and so, of
Course
, we went for a dive - it was amazing! Close to 100ī visibility (for the non divers amungst us - anything over 20ī is spectacular for cold water diving) It was made even better because it was my first
Boat
dive.
Remember īMarquitaī from two days ago... well Brian had offered some time ago to take us out diving - so we finally took him up on his offer and headed out to Piper Pt. in Sechelt Inlet for a dive that was new to me and Kellei hadnīt done recently.
It was a beatuiful clear day and we could see the bottom from the
Boat
at
About
40ī After gearing up, Brian dropped us the dive3 flag - and that was where the fun started. We made this dive flag ourselves and had never used it for anything but shore diving when Kellei is teaching... it sank! the
Line
was set to 30ī (just right for teaching) and the float wasnīt quite enough to counteract the weights on the end so down it went ;) no problem - we just happened to be all set to go - so our first dive turned out to be a recovery operation.
About
5ī down the landscape opened up
Below
us - with the immense visibility we could see for what felt like miles. Kellei has seen this before as itīs very common in winter diving in our area - but it was a first for me.
As usual there was life everywhere - tons of perch, ling cod, rock cod, shript etc... My experience has been that on most dives there seems to be one lifeform that is in abundance - sometimes itīs brittle stars, sometimes fish - this time is was sea squirts - at 55ī on our first descent the rocks were carpeted with the transparent kind - thousands of them.
Anyway - we got in two dives and had a blast... so nice that Kellei has her birthday - to give me an excuse to take a day off and go diving.
---
RSS feed
Feed Description
All News RSS feed
Complete RSS feed
Bosunīs Log
RSS feed for: Bosunīs Log
A Rich Site Summary (RSS) feed is an xml data file that provides a summary of the information contained here. It is not designed to be viewed in your browser, but instead by rss reader software. If you do not know what this means - you can safely ignore it, as it is provided for advanced users with rss reader software only.