December 8th, 2005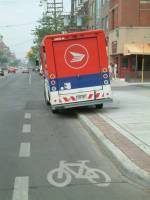 Looks as though their IT dept is not the only area that needs work
Donīt you hate waiting for a shipment - especially when you canīt get any reliable tracking information... It looks as though Canada Post has come up with a solution - itīs fairly ingenious actually (from a shipperīs point of view)
Simply wait until the shipment has been delivered and THEN send the tracking notification - why didnīt anyone think of this before! Theyīll never be wrong (well ok, almost never - this is Canada Post after all)
Seriously - here is the
Back
story: Telus Mobility presented customers with a free Christmas gift (you could choose from three things and I nabbed the free box of chocolates) They state in the offer that Canada Post will email tracking info
About
the shipment as it will be sent via Xpresspost. Yesterday the package arrived and we voraciously started enjoying the chocolates... So, good for Telus and good for Canada Post (shipping was only 2 Business Days) - but they lost me this morning when I received this email from canada post (note the dates carefully)

Dear Scott Baker,

Canada Post will be processing a shipment to you from TELUS Mobility. This automated e-mail message has been sent to provide you with the details of the shipment request generated on 2005/12/08, 00:50:53 for processing.
This item will be shipped by Xpresspost.

Here are the details of your shipment:
Item Number: 7017335086941022
Weight: 0.82 KG
Dimensions: Length N/A Width N/A Height N/A
Estimated Delivery Date: 2005/12/07
Delivery Options: None

OK... keeping in mind that I ALREADY RECEIVED the shipment! The fact that the request was generated the day after I received the shipment can only lead me to believe they are now providing after-the-fact notifications, well it should certainly raise their stats in the correct delivery estimates dept. (bang
Head
on wall here)
Anyway,
Back
to what this post was supposed to be
About
in the first place...
Yesterdayīs search
: We were out for
About
7 hours - we didnīt find anything. It was pretty cold and by the time we got
Back
we were all
Starting
to feel it. But it felt good to do what we did - and now we can be sure that the west shore is clear. The new
Boat
performed very well so despite being a bit chilly - we were all really pleased with the day, even though we truly hope that something turns up soon with regard to what happened to this woman as I can only imagine how this sudden disappearance is tearing at her family.
---
RSS feed
Feed Description
All News RSS feed
Complete RSS feed
Bosunīs Log
RSS feed for: Bosunīs Log
A Rich Site Summary (RSS) feed is an xml data file that provides a summary of the information contained here. It is not designed to be viewed in your browser, but instead by rss reader software. If you do not know what this means - you can safely ignore it, as it is provided for advanced users with rss reader software only.