November 30th, 2005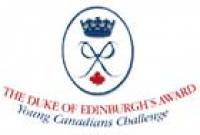 The Duke of Edinburgh´s Award Programmes is not well know - why, I´m not sure - it´s an amazing thing - but for some odd reason not too many people know
About
it.
The Award is the brain-child of HRH the Duke of Edinburgh Prince Phillip and started in the UK in the 60´s it spread across the globe quickly coming to Canada shortly after its inception in the UK.
Basically, it´s a youth achievement merit award. You work through set requirements and at the end, having met all of the goals - you achieve the award. Now it even counts for credit in BC High schools. See
http://www.goldaward.org
for more information.
I worked through the program
Back
when I was in High school and attained the Gold Award - I´ve remained involved ever since at various levels. Since I´m currently the president of the Gold Award Society in BC (an alumni group) I´m a de facto rep for the Award
Board
- thus the meeting...
Well, that was rather long winded - but I´ve got my formal explanation through with anyway ;)
---
RSS feed
Feed Description
All News RSS feed
Complete RSS feed
Bosun´s Log
RSS feed for: Bosun´s Log
A Rich Site Summary (RSS) feed is an xml data file that provides a summary of the information contained here. It is not designed to be viewed in your browser, but instead by rss reader software. If you do not know what this means - you can safely ignore it, as it is provided for advanced users with rss reader software only.