November 28th, 2005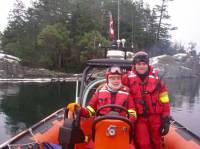 Snow is rare in BC
When it does snow in my neck of the woods one can typically expect it to say on the ground from 12-24 hours before it melts (even 12 hours is a long time usually) as our snow is typically large and wet and the temperatures just barely cold enough to allow it at all.
Yesterday we got our first snow for the season (I say "first" but quite often we donīt get any) and it was as expected - large flakes, some almost 2" across, and not really sticking to much as it was just cold enough.
Kellei, Wyatt, and I immediately ran outside for our morning forest walk. Usually we finish breakfast etc before - but considering the spectical we rushed out straight away.
Wyatt has seen snow before - but itīs funny to watch him - he reacts to it like more of an annoyance then anything else - big snowflakes hitting him on the
Head
incited reactions similar to some kind of annoying fly. But as it is with all dogs in the snow, he certainly didnīt mind all the smells snow seems to trap - and galomphed off merrily sniffing away like some kind of living hover.
It was a glorious walk and no sooner had we returned home did the snow stop. Ah well - we can always hope for more :)
PS: The photo was taken last winter in January during another bit of a cold snap where we managed to get out on the
CCGA
Boat
to enjoy it.
---
RSS feed
Feed Description
All News RSS feed
Complete RSS feed
Bosunīs Log
RSS feed for: Bosunīs Log
A Rich Site Summary (RSS) feed is an xml data file that provides a summary of the information contained here. It is not designed to be viewed in your browser, but instead by rss reader software. If you do not know what this means - you can safely ignore it, as it is provided for advanced users with rss reader software only.