November 22nd, 2005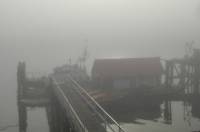 Thick Fog
It was a fairly long day yesterday, but a good one. I left Victoria a bit late after my 0800h meeting went
About
1.5h longer then I thought ;) (it was good though) however it made me just miss the 1100h ferry (they actually told me at the ticket booth that if I had been there 30sec earlier I would have made it - now thatīs just cruel) So it was the 1300h ferry for me and after a 2 hour wait I finally set off for Vancouver. Then, a huge accident on the upper levels slowed things down getting to the other ferry and I was left with the 1730 which departed late due to the fog - so, I ended up 15 mins late for the training meeting - but I got there!
It went well and my crew decided to take a turn on the
Boat
after the meeting - I was already pretty tired - but any opportunity to go out I usually accept - so off we went. Near zero visibility and dark - perfect conditions for an electronic nav run. It worked out excellent for everyone - Kellei was at the
Helm
going out and my other crew member Rob ran the Navs. I wanted them to try and run the show themselves so that they could really experience the "ultimate" in restricted visibility. They swapped roles when we reached the
Port
lateral
Buoy
that we were
Heading
for. It went very well and we were out and
Back
without any serious
Navigation
issues cropping up.
That said, we didnīt get
Back
until after midnight - so today Iīm a bit groggy - but Iīm hanging in there and getting
Back
into the swing of things - work wise.
I havenīt forgot that I promised to write more
About
the
ARTE
Course
- and Iīll do that coming up in the subsiquent days.
---
RSS feed
Feed Description
All News RSS feed
Complete RSS feed
Bosunīs Log
RSS feed for: Bosunīs Log
A Rich Site Summary (RSS) feed is an xml data file that provides a summary of the information contained here. It is not designed to be viewed in your browser, but instead by rss reader software. If you do not know what this means - you can safely ignore it, as it is provided for advanced users with rss reader software only.