November 18th, 2005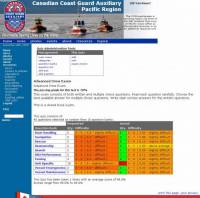 Updated Quiz Module
Iīve droned on
About
ARTE
quite a bit in the last few blogs - so Iīll leave it to you to look
Back
and find out more
About
it if youīre not a regular here. They Auxiliary formally announced who was going to be there - so the region now knows Iīm going to be on the
Course
(I had kinda been waiting to tell some people until it was done - but so be it)
I have the schedule and it sounds like it will be fun, with a combination of classroom and on-water components.
I spent most of the last two days getting the quiz module ready for the
Course
(this was part of my assignment) itīs pretty powerful now and along with my team-mate Morgan we have entered a good number of questions into the various question banks. I now need to sort through these and see what I can do to open up the quiz module here on the mate.
On a side note - Iīm going to go and visit SALTS again today and drop off Tonyīs laptop (no matter where I go I seem to end up fixing a computer) and also see if someone will, for the first time in a decade, sign off something in my
Log
book - now that I have the 60tn I have a few more of the Master requirements that I can put behind me - sure to bring a smile to whomever I find to sign for that.
---
RSS feed
Feed Description
All News RSS feed
Complete RSS feed
Bosunīs Log
RSS feed for: Bosunīs Log
A Rich Site Summary (RSS) feed is an xml data file that provides a summary of the information contained here. It is not designed to be viewed in your browser, but instead by rss reader software. If you do not know what this means - you can safely ignore it, as it is provided for advanced users with rss reader software only.