November 14th, 2005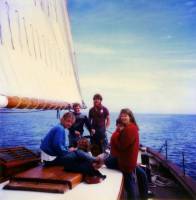 My First Trick at the Wheel - 1987
Little did I know when I first stepped
Aboard
the Spirit of Chemanius
Back
in 1987 where that experience would lead me...
Itīs been almost 20 years since that 5 day trip when I did my SALTS Juniors... progressing through my Intermediates took quite a bit longer, then on to Seniors all as volunteer crew. I didnīt even know I was chalking up sea time but I am very glad of that now.
Now, the
CCGA
and this progression to my 60tn Masters has devoured the training side of my life of late (all in a good way) and tomorrowīs oral exam will hopefully see it done.
Iīm writing this the night before as Iīm leaving on the first ferry for Vancouver and the exam. Itīs an interesting mix of emotions shuttling through my
Head
tonight. Iīm a bit apprehensive
About
the exam because I really donīt know what they might ask so my studying has been all over the place. Then there is the worry
About
how many people know the exam is tomorrow - which adds a fair bit of pressure to pass it ;) - especially since everyone is so sure Iīll pass it. Finally there is the part of tomorrow that isnīt directly related to the exam - they are going to ask which vessel I need this for - and I have so many different ones its going to be difficult to answer - which I hope isnīt a problem.
However - tomorrow is going to come and will bring what it will bring. As before I will fill everyone in on the happenings at the exam as best as I can - reporting
Back
here in
About
24h - wish me luck!
PS: Iīll state this now so Iīm forced to do it - I will create a 60tn Master Study Page that details all the "stuff" you need to know concerning obtaining this certification so that others will have a slightly easier walk through the whole process then I did.
---
RSS feed
Feed Description
All News RSS feed
Complete RSS feed
Bosunīs Log
RSS feed for: Bosunīs Log
A Rich Site Summary (RSS) feed is an xml data file that provides a summary of the information contained here. It is not designed to be viewed in your browser, but instead by rss reader software. If you do not know what this means - you can safely ignore it, as it is provided for advanced users with rss reader software only.