November 2nd, 2005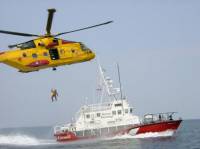 CAF Cormorant & CCG Cutter
We thought we had a week without any
CCGA
training...
We thought they didnīt offer the Coastal
SAR
Course
anymore...
We thought wrong.
When the guy who looks after training for the
CCG
and
CCGA
calls and says "So, what are you doing on Thursday?" you gotta know itīs going to be something interesting ;) It turns out that Kellei and I have been given the chance to attend a Coastal
SAR
Course
he is putting on in Victoria - tomorrow... pack the bags - find a doggie baby sitter and re-schedule life a bit and weīre off...
Coastal
SAR
is a classroom
Course
that covers how the
SAR
system works in great detail - everything from
JRCC
to Helicopter Opts - what the various groups involved have and how they fit in. Rudimentary info, effectively, that anyone involved in
SAR
should probably know.
Several friends and colleague had recommended that I try to get my hands on a manual for it - because it was such a good info resource and because the
Course
isnīt offered any more and so I spoke to Tyler (the aforementioned training guy)
About
it several weeks ago. Which, I assume, is what prompted the phone call.
I think I mentioned this in a past blog - but itīs kinda fun actually getting a
Course
from Tyler - as I first met him
Back
when I was sailing on the Swift - he was stationed on Cortez Is.
Back
then and would often come out to visit us - that was the first I ever heard of the
CCGA
- little did I know where that would lead...
So here we are - full circle (he is also the guy teaching the
ARTE
Course
in 2 weeks) yikes and I have my 60tn orals in the middle of all this too - oh ya work - better not forget that either ;) - my brain is
Starting
to hurt a bit...
---
RSS feed
Feed Description
All News RSS feed
Complete RSS feed
Bosunīs Log
RSS feed for: Bosunīs Log
A Rich Site Summary (RSS) feed is an xml data file that provides a summary of the information contained here. It is not designed to be viewed in your browser, but instead by rss reader software. If you do not know what this means - you can safely ignore it, as it is provided for advanced users with rss reader software only.