October 31st, 2005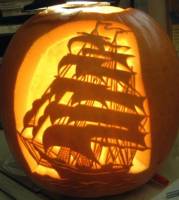 Now thatīs a pumpkin!
This has got to be one of the strangest holidays we cling to - no? Trying to make all the "scary" stuff - fun... well it didnīt start that way - but basically thatīs what we do now. Which is an encouraging thought really - too bad we can start transforming some of the īrealī scary stuff in the world today into fun.
Personally, Iīve never been much for Halloween - I donīt like dressing up in costumes and what with all the risks to kids these days from maniacs - you canīt even give out anything healthy - it must all be junk store-bought and shrink wrapped with a triple safety seal... (in the
Back
of my
Head
I hear Homer Simpson saying "mmmmm junk food...") cīest la vie I suppose.
Regardless - we had a wicked storm last night - wind gusts topping 80Kmph - I can hardly wait for our forest walk this morning (we take the dog every morning) to see what all was brought down last night. Iīm attaching the Halibut Bank (an
ODAS
in the middle of the Straight of Georgia) wind graph so you can see the progression.
FYI: 16m/s works out to
About
31Knots
---
RSS feed
Feed Description
All News RSS feed
Complete RSS feed
Bosunīs Log
RSS feed for: Bosunīs Log
A Rich Site Summary (RSS) feed is an xml data file that provides a summary of the information contained here. It is not designed to be viewed in your browser, but instead by rss reader software. If you do not know what this means - you can safely ignore it, as it is provided for advanced users with rss reader software only.