October 28th, 2005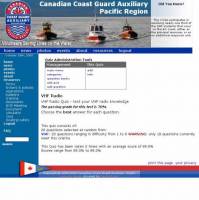 Screenshot of the new Quiz module
I had been planning to do something like this for a long time. A module that will allow banks of questions to be put together into on-line quizes and tests with automatic scoring. Iīm proud to say - Itīs here!
This first incarnation, like so much lately, has been developed for the the Canadian Coast Guard Auxiliary - Pacific, but there are loads more locations where it should com in handy - including this web site (I can probably even copy most of the questions between the two)
Initially itīs only available to members of the Auxiliary - but we have already been talking
About
opening it up to the public - in which case Iīll be sure to include a link.
In other news itīs almos Halloween and thousands of normally sane, grown adults around the world will dress up in costumes, act like idiots and probably many will get drunk doing it... to each their own... be safe have fun - whatever turns your crank.
---
RSS feed
Feed Description
All News RSS feed
Complete RSS feed
Bosunīs Log
RSS feed for: Bosunīs Log
A Rich Site Summary (RSS) feed is an xml data file that provides a summary of the information contained here. It is not designed to be viewed in your browser, but instead by rss reader software. If you do not know what this means - you can safely ignore it, as it is provided for advanced users with rss reader software only.