October 25th, 2005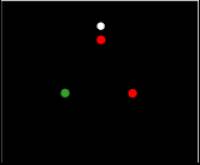 Light Pattern for a Pilot Vessel
The dreaded
COLREGS
exam looms today after lunch in Vancouver... I spent most of the day yesterday studying for it and Iīm feeling pretty good
About
it. I have some practice exams and it seems as though they want to try and trick you with most of the questions - that will be my biggest challenge - Iīm not altogether good at test taking - no matter how well I know a subject, if they get silly
About
it - but weīll see.
The best news is that for the first time in my life I think I finally have the sound signals down. For some reason I never could seem to get those to click in my
Head
- but they finally have. Iīll post a sounds document (the one that has been forecast in the seamanship section for years) when I get some time to put it together.
Again, I suspect I wonīt know any results until mid Nov. but Iīll keep you posted. It seems training will continue to be non-stop for the next while as the ATRE
Course
is coming up mid-November and I still mean to do my Rescue Diver
Course
with Kellei... but whatīs life for if it isnīt
About
learning!
---
RSS feed
Feed Description
All News RSS feed
Complete RSS feed
Bosunīs Log
RSS feed for: Bosunīs Log
A Rich Site Summary (RSS) feed is an xml data file that provides a summary of the information contained here. It is not designed to be viewed in your browser, but instead by rss reader software. If you do not know what this means - you can safely ignore it, as it is provided for advanced users with rss reader software only.