October 16th, 2005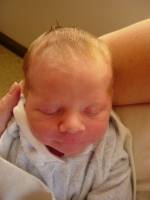 Ethan James Elliott (age: several hours)
My very good friends Jim and his wife Nicole have a new baby: Ethan James Elliott - this blog is dedicated to them!
Iīve known Jim and Nicole since I was working in Regina Saskatchewan as a consultant at Sasktel several years ago. We became
Fast
friends durning the 3 years I worked there and have stuck together ever since. Jim now runs
http://www.darkfrenchhost.com
and helps me out with web design work from time to time.
He also flys out from Regina to help me move, erect ridicously large radio antennas, and build server rooms in my garage... what are friends for...
My heartfelt congratulations to Jim and Nicole on this happy day - I wish them peace, good health, and sleep (but assuming little Ethan is like most babies - they will probably only get the Good Health part...)
---
RSS feed
Feed Description
All News RSS feed
Complete RSS feed
Bosunīs Log
RSS feed for: Bosunīs Log
A Rich Site Summary (RSS) feed is an xml data file that provides a summary of the information contained here. It is not designed to be viewed in your browser, but instead by rss reader software. If you do not know what this means - you can safely ignore it, as it is provided for advanced users with rss reader software only.