October 12th, 2005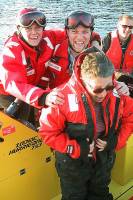 My mom struggling into a floater suit
While this happened a little while ago - I only now got
Hold
of the photo and it was far too priceless not to share ;)
Back
in September, we had our new vessel dedication - and rides on the new
Boat
were offered after the ceremony. Kellei and I were crewing the
Boat
and we managed to convince my mom to come out with us. The only problem was that all the lifejackets were already spoken for and the only thing left was a full floater suit (and we happened to have a small one) Now, this wasnīt an evil plan of mine - but when you get the chance to take a ready-made evil-plan one must never turn it down ;)
And so with several on-lookers my mom bravely struggled into the suit cursing us, the suit, and laughing all the way through.
In the end she had a great time - I think finally understanding why we love going out on the
CCGA
vessel so much - and did finally admit that the struggle of the suit - was worth it :)
---
RSS feed
Feed Description
All News RSS feed
Complete RSS feed
Bosunīs Log
RSS feed for: Bosunīs Log
A Rich Site Summary (RSS) feed is an xml data file that provides a summary of the information contained here. It is not designed to be viewed in your browser, but instead by rss reader software. If you do not know what this means - you can safely ignore it, as it is provided for advanced users with rss reader software only.