August 17th, 2005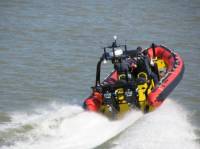 The new vessel is a Zodiac
Hurricane
753 (the first of itīs kind purchased into the Canadian Coast Guard Auxiliary - Pacific) and is a newer version of the 733 - the standard
Fast
responce vessel used by the
CCGA
and
CCG
.
Our unit has been raising fund for the vessel for the last 3 years - we are not quite there yet - but had enought to order and bring the vessel home.
The Specs
We got a ride from our unit leader to the Zodiac factory in Delta BC to find the new
Boat
up on a trailer in the front of the
Yard
waiting for us (photo) it was wonderful. I should probably give some background
About
our old vessel - an ageing Zodiac 733 - with analog
RADAR
and simple
GPS
. It is literally falling apart (to the degree of bolts popping in rough weather) so getting a new vessel was not an option - it was a necessity.
Anyway, we launched the
Boat
and were escorted down the Frasier River by CCGA-7 (the local
CCGA
unit) and then it was off down the Strait of Georgia. The 753 performed wonderfully - very smooth and stable - we marvled the whole way
Back
over the newe Raymarine e-series electronics and radios. We couldnīt really open her up to full throttle as we were working through an engine break-in procedure but we could tell she was truly going to fly if we needed her to.
The trip was awesome and apart from someone hitting their
DSC
distress somewhere near by and setting off every alarm on the
Boat
(which not being used to the new vessel gave us a bit of a start) everything went swimmingly.
We stopped off in Gibsons for an ice cream and to let the unit leader from CCGA-14 (we frequently train together) have a look - and finally it was
Back
home to the
Dock
in Halfmoon Bay.
- Iīm sure Iīll have many good stories to tell
About
this vessel over the years - Iīm especially looking
Forward
to reporting her first rescue - but we need to get all the
CCGA
registration and paperwork and our decals applied from that first - hopefully only a week or so and we can bring her
Back
into service.
---
RSS feed
Feed Description
All News RSS feed
Complete RSS feed
Bosunīs Log
RSS feed for: Bosunīs Log
A Rich Site Summary (RSS) feed is an xml data file that provides a summary of the information contained here. It is not designed to be viewed in your browser, but instead by rss reader software. If you do not know what this means - you can safely ignore it, as it is provided for advanced users with rss reader software only.