September 30th, 2005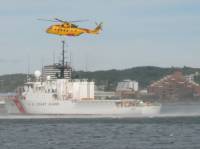 Helo Exercise
Last night the team selections pulled Kellei off our team to go to Can-Am - that was a bit of a blow to everyone but especially Kellei who is now working with two Americans who are over twice her age - she is making the best of it - but it was a bit of a pill to swallow after all her hard work to get here. Plus - I wonīt get to be with her through most of the
ISAR
:<
Our day started with the
Navigation
and boy was that tough! only 30 mins - and so far everyone that we spoke with felt an hour was more along the
Lines
of what was needed. That said - we split our tasks and did fair. The Communications test after that was a breeze - I believe we all did well at that.
The On-Water SARex was gold for us - all our prep work and the equipment we had with us paid off. and Eagle-Eyes Campbell spotted the search object (which was a 1ī square red piece of wood floating only 3" out of the water) before we even reached our Commence Search Point. The Judge had hardly anything to say - commending our inter-crew comms and positive control throughout. I believe we could be in contention to win that event - considering thatīs the closest to what we train for - we are all hoping.
I also heard from the judges that Kellei lead her Can-Am team to the best time for the fire-pump - with all our training Iīm thrilled to hear she did - but not too surprised :)
It looks like we wonīt find out any scores until everything is done tomorrow - but we are all having fun - very tired after today - but excited
About
tomorrow and very pleased with day one. (I just got
Back
to the hotel - the adrenalin is still bleeding out of my system) No sign of Kellei at the moment - but I heard a few of the Can-Am members had managed to convince the crew on the
CCG
vessel to server them lunch - that sounds like Kellei ;)
No photos for the moment - everything was on the small
CCGA
waterproof camera and I canīt offload it until I get home - but I have some fun ones.
---
RSS feed
Feed Description
All News RSS feed
Complete RSS feed
Bosunīs Log
RSS feed for: Bosunīs Log
A Rich Site Summary (RSS) feed is an xml data file that provides a summary of the information contained here. It is not designed to be viewed in your browser, but instead by rss reader software. If you do not know what this means - you can safely ignore it, as it is provided for advanced users with rss reader software only.