September 29th, 2005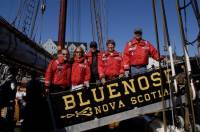 ISAR 2005 Pacific Team - Sailing Trip
We had a great flight down and fell instantly to sleep after some search to locate the hotel. Weīre staying at the Park Place Ramada Plaza Hotel in Dartmouth - I donīt recommend it (unless you like being nickle and dimed to death) Which is part of the reason for no blog yesterday (they wanted $10/day for load of the wireless card - no thanks) I went out today and bought a wireless card for $30 instead.
Anyway - we made our way south stopping in Mahon Bay (where we met two Auxiliarists with a fantastic
Schooner
model) enroute to
Lunenburg NS
for our sailing trip
Aboard
Bluenose II - I brought greetings from everyone at SALTS and the master and crew of Bluenose II wished to send the same
Back
to everyone at SALTS! It was a glorious sunny day - but unfortunately only
About
10knts of wind - so we didnīt really get a "real"
Sail
in - it was still fun to have done - and especially good to share that with Kellei and the team - Kellei especially for me (obviously) as I yabber
About
sailing all the time and she had never had the chance to try a tall
Ship
before!
we even manage to persuade the master to allow us down
Below
for a quick virtual tour - Iīll get that posted when I get home after
ISAR
.
After the it was
Back
to Dartmouth stopping at
The Shore Club
for a lobster supper and an allround good time.
We all got the giggles on the way
Back
from that - as Shawn drove us around Halifax for a brief night tour and we kept missing exits on the HWY - we were all sore from laughing so hard.
I should be able to keep on with this now - Iīll try to add more as soon as the team selections are done tonight and I actually know who is on my team.
---
RSS feed
Feed Description
All News RSS feed
Complete RSS feed
Bosunīs Log
RSS feed for: Bosunīs Log
A Rich Site Summary (RSS) feed is an xml data file that provides a summary of the information contained here. It is not designed to be viewed in your browser, but instead by rss reader software. If you do not know what this means - you can safely ignore it, as it is provided for advanced users with rss reader software only.