January 1st, 2008
I feel a bit like Iīm in grade 5 again - For my holiday project I did... But thatīs basically what this was - a holiday project to build a better weather reporting system for my web pages - and thatīs exactly what I think Iīve managed to do...
The new system used feeds from a myriad of sources and I can easily add more. Basically each feed builds up whatever data it can into a central summary object that then reports it all out. It uses the Lat/Long to calculate the sunrise and sunset times as well as the moon phase. It computes some averages and spits out the whole thing on a web page or in an email.
The sample
Below
is taken from
http://www.ccga12.org/weather/
which was the main reason I created it - however I bet anyone cruising the waters of the Straight of Georgia may find that page useful. It updates as soon as the various stations do - so the information is as
Current
as it can be. It even includes satellite and web cam images (not shown) that update automatically as well.
---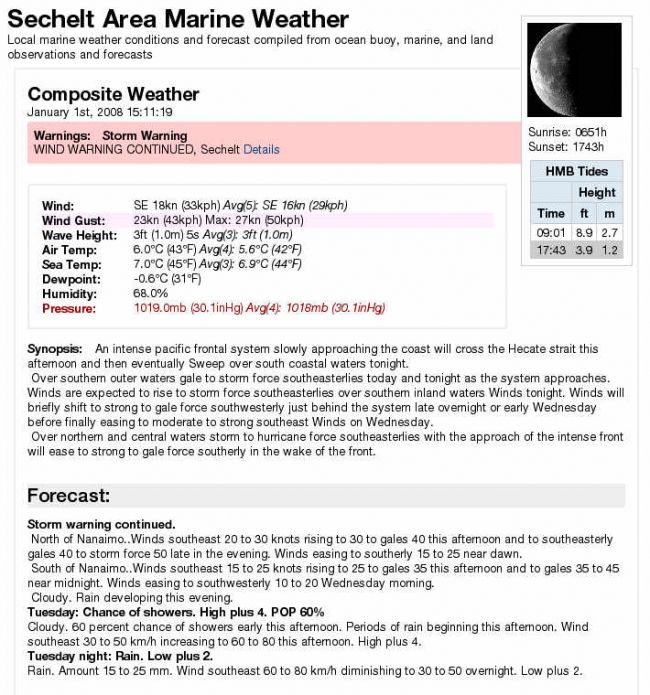 Sample Composite Weather Result Page
RSS feed
Feed Description
All News RSS feed
Complete RSS feed
Bosunīs Log
RSS feed for: Bosunīs Log
A Rich Site Summary (RSS) feed is an xml data file that provides a summary of the information contained here. It is not designed to be viewed in your browser, but instead by rss reader software. If you do not know what this means - you can safely ignore it, as it is provided for advanced users with rss reader software only.