September 9th, 2007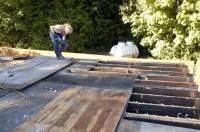 Taking off the floor
Just over a year ago our mortgage helper house (in our backyard) caught fire and the top story burnt down. We finally have raised enough money and got the building permit to put a roof
Back
on...
Step one is to remove what was the floor from the house - a process which we started on Friday and will attack with earnest today. We plan on taking a time exposure film of the entire process which will include this destruction of the old, raising roofing trusses which arrive Monday afternoon and finally sheathing and shingling the roof (sometime late in the week)
Kellei has done this once before - but I havenīt even though of doing something like it - so wish us luck!
---
RSS feed
Feed Description
All News RSS feed
Complete RSS feed
Bosunīs Log
RSS feed for: Bosunīs Log
A Rich Site Summary (RSS) feed is an xml data file that provides a summary of the information contained here. It is not designed to be viewed in your browser, but instead by rss reader software. If you do not know what this means - you can safely ignore it, as it is provided for advanced users with rss reader software only.