July 8th, 2007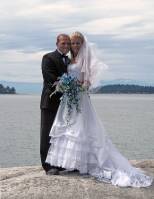 One year ago today
Itīs time for some happy news for a change... Today is Kellei and My First Wedding Anniversary! So itīs time to celebrate...
Weīre spending today working on getting our
Back
Yard
cleaned up and preparing for the Hot Tub which we won
Back
in April. All in all itīs been a wonderful day so far and we have a nice dinner planned this evening.
If youīre interested our wedding photos are online at
http://www.scottbaker.ca/gallery/
... we now return you to your regularly scheduled program :)
---
RSS feed
Feed Description
All News RSS feed
Complete RSS feed
Bosunīs Log
RSS feed for: Bosunīs Log
A Rich Site Summary (RSS) feed is an xml data file that provides a summary of the information contained here. It is not designed to be viewed in your browser, but instead by rss reader software. If you do not know what this means - you can safely ignore it, as it is provided for advanced users with rss reader software only.