June 11th, 2007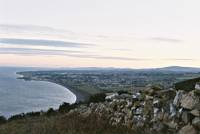 After a day of travel we have arrived in Ireland. Itīs a beautiful sunny day with a bit of haze so despite Gerryīs best attempt to drive us down the coastal route through Dublin, our visibility is a bit limited...
First thing in the morning we packed up in Sweden and made a final trip out to the SSRS - were given a free
Chart
and loads of other sundry items. The people of the SSRS were so generous that we were
Starting
to feel guilty - and in the end we shipped two boxes home full of "stuff" both from the conference and from the SSRS. We knew our luggage was overweight (thus shipping the boxes) but we didnīt expect a bill of over 1000Kr (
About
$120) However that wasnīt so bad all things considered. The worst part of the day was the heat. Over 30° outside and NO AIR CONDITIONING - yowzers was it hot! (imagine over 300 people in a waiting lounge of a building with a metal roof and no ventilation and 30° outside I;d guess it was at least 4 or 5° warmer inside) and it didnīt help that we were both wearing
About
4 layers to try and keep the weight down in our luggage.
It was fine once on the plane and we enjoyed a smooth 2h flight over to Ireland. Gerry hired a
Car
and we meandered down the coast towards Greystones in County Wicklow where Gerry lives and they had found us a B&B. We stopped part way down at a small pub for our first pint of Guinness and made it to the B&B
About
1800h.
In general we
Stay
at B&Bs and work closely with many local ones in our area - we have never had a bad experience at one - but that luck was bound to change as there is a dud in every lot and unfortunately this was to be our small adventure... Our host greeted us with a bit of a dazed look and when asked which room she replied "I think itīs #4 just go up and if there is someone in the bed it isnīt yours" - we think this was a joke - but it was really hard to be sure. It was pretty basic - but livable so we stayed the first night and made other arrangements for the next day. Always good to
Check
with the local association and/or standards body for B&Bs.
So, completely exhausted after a dinner with our Gerry and Kathleen we turned in for the night.
---
RSS feed
Feed Description
All News RSS feed
Complete RSS feed
Bosunīs Log
RSS feed for: Bosunīs Log
A Rich Site Summary (RSS) feed is an xml data file that provides a summary of the information contained here. It is not designed to be viewed in your browser, but instead by rss reader software. If you do not know what this means - you can safely ignore it, as it is provided for advanced users with rss reader software only.